"It was a difficult book to write," Ron Rhody said. "The stuff about Fallis has never been pulled together in a story. There are all these anecdotes, conversations and suspicions out there about the guy and the sort of things he did. My concern was that, in the writing, that I'm fair to the record that exists and fair to the man."
Outer Banks Publishing Group author Ron Rhody interview was recently published on the front page of Frankfort, KY State Journal newspaper in anticipation of the launch of his new novel, Concerning The Matter of The King of Craw Nov. 5 at the Kentucky Book Fair in Frankfort, KY.
Read the rest of the story>
Concerning The Matter of The King of Craw
He brooked no insult, would not be cheated, would not be pushed around. He bent a knee to no man. He was the King of Craw and the powers-that-be wanted him gone.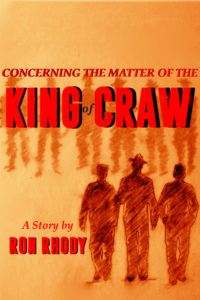 List Price: $16.99
6″ x 9″ (15.24 x 22.86 cm)
Black & White on Cream paper
288 pages
Outer Banks Publishing Group
ISBN-13: 978-0990679042
ISBN-10: 0990679047
BISAC: Fiction / Historical / General
Now $11.99 – Order here