A Killing in a Small Town
By Scott Fields
Harlan Steelman owned most of the town of Bear Creek and found his way in and out of every backroom, barroom, and bedroom.
When his rival from high school, John Watson, returns to Bear Creek with his wife and son to start anew, Harlan vows to ruin John's life and take Kara, his wife, away from him.
When Harlan is found murdered, John Watson is the likely suspect and is taken into custody.
What happens next is the trial of the century for the little town of Bear Creek, but it takes a horrible twist at the end.
Now $10.99 at the Outer Banks Publishing Group Bookstore.
Buy your copy now – click here or download a A Killing Iin a Small Town Sample.
5.5″ x 8.5″
(13.97 x 21.59 cm)
Black & White on Cream paper
236 pages
Outer Banks Publishing Group
ISBN-13:
978-0990679004
ISBN-10:
0990679004
BISAC:
Fiction / General
_____________________________
The Man Who Fooled SAVAK
By Doug Roberts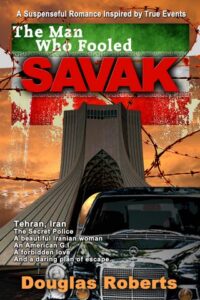 WITH THE CURRENT STRIFE IN THE MIDDLE EAST for Democracy, The Man Who Fooled SAVAK is just as relevant today as if it were written in the 1970s.
If you liked ARGO, you will love The Man Who Fooled SAVAK! A similar story and based on actual events!
It's 1971. As a former anti-war activist against the war in Vietnam, Doug Roberts now a draftee in the U.S. Army is assigned to the classified message center in Tehran, Iran, where he uncovers evidence that the regime is corrupt and propped up by one of the most brutal secret police forces in modern times – SAVAK.
He knows this because his Iranian girlfriend's family is feeling SAVAK's repression and later he nearly loses his life as he also is targeted by SAVAK. Now, he's caught in the middle. What to do?
He launches a thrilling and dangerous plan to smuggle his girlfriend and her mother out of the country. What transpires is a romantic thriller of love and freedom and what one man would do to have both.
Inspired by true events!
6″ x 9″
(15.24 x 22.86 cm)
Black & White on Cream paper
376 pages
Outer Banks Publishing Group
ISBN-13:
978-0982993125
ISBN-10:
0982993129
BISAC:
Fiction / Thrillers / Espionage
_____________________________
Social Media for Business
By Martin Brossman and Anora McGaha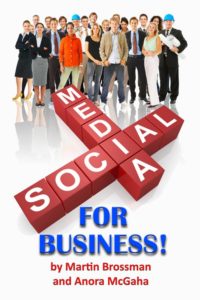 Following publication of Martin Brossman's widely used directory of social media and online resources, he has teamed up with Anora McGaha to write and edit Social Media for Business – Your Personal Connection to Your Customers.
This new book provides a solid introduction to social media and how to engage in the new field of interactive marketing.
Dozen of professionals using social media have contributed articles to the anthology providing keen insight and practical value for both newcomers and experienced social media users.
Order your copy today for $22.95 from the printer directly or from Amazon or other retail book stores.
List Price: $22.95
6″ x 9″
(15.24 x 22.86 cm)
Black & White on White paper
274 pages
Outer Banks Publishing Group
ISBN-13:
978-0982993187
ISBN-10:
0982993188
BISAC:
Business & Economics / Small Business
_____________________________
The Cradle Above the Abyss
By Anthony A. Policastro


Anthony A. Policastro's (not the publisher) debut novel about redemption, a life-changing trip from New York to America's heartland and the powerful spirit and beliefs of America's first Americans – the Native American Indian.
Available on Amazon, the Kindle and Smashwords as an ebook. Get yours today!
List Price: $9.99
6″ x 9″ (15.24 x 22.86 cm)
Black & White on Cream paper
248 pages
Poligym
ISBN-13:
978-0615336770
ISBN-10:
0615336779
BISAC:
Fiction / Thrillers / Suspense
_____________________________
Dark End of the Spectrum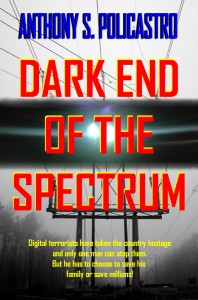 When digital terrorists take over the US power grid and the cell phone network, they give the government an ultimatum – bomb the borders of Afghanistan with nuclear weapons to end Al-Quada or they will start downing commercial airliners. Only security expert Dan Riker can stop them, but they have his family. Will Dan save his family or will millions die?
"The family elements in the story – the real struggles with marriage, raising a family, making a living, and just trying to enjoy life – have broadened the book's appeal to a wider audience, primarily women who are not into technology."
Publication Date: Feb 04 2009
ISBN/EAN13: 1441471685 / 9781441471680
Page Count: 460
Binding Type: US Trade Paper
Trim Size: 5.5″ x 8.5″
Language: English
_____________________________

When residents in a highly-religious small town have horrible near-death experiences and wake up with burnt skin, they believe they went to hell and that God has abandoned them. Matters get worse when a local Satanic cult emerges and wins over many residents. Will Chantress be able to stop Kyle, the antichrist, from destroying the world's religions?
Publication Date: Mar 11 2009
ISBN/EAN13: 1442109556 / 9781442109551
Page Count: 320
Binding Type: US Trade Paper
Size: 6″ x 9″
Language:English
_____________________________
 Outer Banks Publishing Group Bookstore