Do you live in Boston or near Newton, Massachusetts?
Outer Banks Publishing Group author Mary L. Tabor will give a public talk this Tuesday, Oct. 18 at Mt. Ida College as their Woodrow Wilson Visiting Fellow this week.
Wadsworth Lecture: Mary Tabor on Business and Art
When: Tuesday, Oct. 18th
Where: Campus Center Theater
Contact: Jamie Elliott
(617) 928-7351

jelliott@mountida.edu
Mary will give a talk on her journey from high school English teacher to corporate
executive and the leap to creative work, to art. She will end the talk with a short
reading of one of her stories.
MARY TABOR
Author; former public affairs director, American Petroleum Institute
Mary Tabor published her first book of fiction at age 60 after a 16-year career in corporate
America, a senior executive, director of public affairs writing for the oil industry.
She was a high school English teacher who joined the business world, then made
a transition from the business world to the creative world, leaving her corporate
job when she was 50 to earn an MFA degree in Creative Writing.
Her first book, The Woman Who Never Cooked, won Mid-List Press's First Series Award.
Ms. Tabor's experience spans the worlds of journalism, business, education and fiction writing.
She was a visiting writer at University of Missouri in Columbia, and has been a long-time professor of Creative Writing at George Washington University and she works with the Washington, DC, library to reach less-privileged populations on how to begin writing.
Mary's books will be available for sale at the event: The Woman Who Never Cooked: connected
short stories, (Re)Making Love: a memoir, and Who by Fire: a novel.
Or you can purchase any of them at our bookstore.
______________________________
Who by Fire
by Mary L. Tabor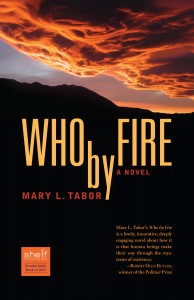 List Price: $17.95
6″ x 9″ (15.24 x 22.86 cm)
Black & White on Cream paper
248 pages
Outer Banks Publishing Group
ISBN-13: 978-0982993149
ISBN-10: 0982993145
BISAC: Fiction / Literary
Who by Fire breaks new literary ground.
Mary L. Tabor has written a complex tale of love, betrayal, discovery and the search for self.
The form of the novel itself breaks ground. A male narrator tells the story he does not actually know but discovers through memory, through piecing the puzzles of his marriage, through his wife's goodness and her betrayal. He confronts paradox with music, science and a conflagration he witnessed in his native Iowa. Underlying his search is the quest for heroism and the search for his own father.
Quite simply, Who by Fire is like nothing else you have read and has earned its place among books that matter.
Buy a paperback copy for $7.99
(Re)Making Love
by Mary L. Tabor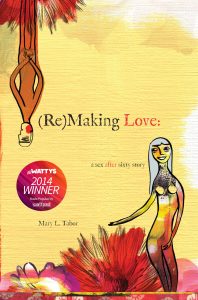 List Price: $11.75
6″ x 9″ (15.24 x 22.86 cm)
Black & White on Cream paper
212 pages
Outer Banks Publishing Group
ISBN-13: 978-0982993170
ISBN-10: 098299317X
BISAC: Biography & Autobiography / Women
When Mary L. Tabor's husband of 21 years announced, "I need to live alone," she cratered and turned to the only comfort she had left: her writing.
What resulted was (Re)MAKING LOVE: a sex after sixty story, a fresh, witty, funny and brutally honest memoir of everything she felt and did during her long journey back to happiness.
This deeply personal account of her saga takes the reader from Washington, DC to Missouri to Australia through the good, the bad and the foolish from Internet dating to outlandish flirting and eventually to Paris where an unexpected visitor changed the author's life forever.
Her story offers hope and joy told with passion and brilliance that is highly refreshing with the single and most prominent message—it is never too late to find love—and oneself even after age sixty and beyond.
Buy a paperback copy for $5.99
The Woman Who Never Cooked
by Mary L. Tabor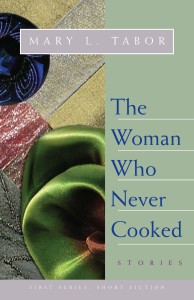 Series: First Series: Short Fiction
Paperback: 175 pages
Publisher: Outer Banks Publishing Group
Language: English
ISBN-10: 0922811687
ISBN-13: 978-0922811687
Product Dimensions: 9 x 6.1 x 0.6 inches
"The American adult woman is featured in this debut collection of stories about love, adultery, marriage, passion, death, and family. There is a subtle humor here, and an innate wisdom about everyday life as women find solace in cooking, work, and chores. Tabor reveals the thoughts of her working professional women who stream into Washington, D.C., from the outer suburbs, the men they date or marry, and the attractive if harried commuters they meet."
Her collection of short stories The Woman Who Never Cooked, published when she was 60, won the Mid-List Press First Series Award. "Mary Tabor writes with astonishing grace, endless passion, and subtle humor," one reviewer noted.
Preview The Woman Who Never Cooked