Outer Banks Publishing Group author Ron Rhody ventured back to his hometown, Frankfort, KY recently to speak before the Frankfort Women's Club about his new upcoming murder mystery novel based on true events, THEO & The Mouthful of Ashes. Kay Harrod of The State Journal in Frankfort covered the event. Here is her story.
October 16, 2011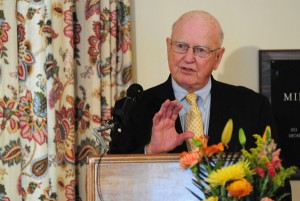 It may be Frankfort's oldest unsolved murder. Few remember it, but author Ron Rhody does.
Rhody, a Frankfort native and 1950 graduate of Frankfort High School, remembers it so vividly that he focuses his latest work of fiction on the story to be released at the Kentucky Book Fair, Saturday, Nov. 12.
Rhody's latest work is a prequel to "Theo's Story," a Frankfort-based novel of political intrigue and murder written in 2009.
"Theo and the Mouthful of Ashes" examines the protagonist's younger days as a reporter at The State Journal when it was on West Main Street.
The book sets it sights on a murder in Frankfort more than 60 years ago. A woman was discovered at the bottom of a flight of stairs, her head bashed in and her throat stuffed with ashes.
The impetus for the story comes from Rhody's recollection of Frankfort as a young man. Read the rest of the story here.>
Photo by  Tricia Spaulding
__________________________________
THEO & The Mouthful of Ashes is available at special pre-launch discount until Nov. 12 at the Outer Banks Publishing Group Bookstore.
Order yours now at this special pre-launch discount price.
Publication Date: January 2012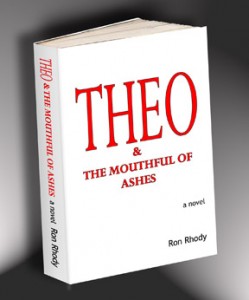 Prelaunch Price: $12.99
6″ x 9″ (15.24 x 22.86 cm)
Black & White on Cream paper
274 pages
ISBN: 978-0-9829-9316-3
ISBN EL: 978-1-4524-0970-2
Binding Type: US Trade Paper
Language: English