ISIS spawned by the People's desire to control their Destiny
Publisher's Note: Doug Roberts lived and almost died under the tyranny of a brutal dictatorship in Tehran in the 1970s when he was stationed there as a US Serviceman in Administrative Services office in the U.S. military advisory unit to Iran, ARMISH/MAAG. He knows first-hand what it is like to live in fear of Tehran's secret police monitoring his every move, especially when he carried out a daring escape for his girlfriend and her mother and reuniting them with their exiled father and husband.
His story comes alive in his dramatic retelling of the events in his book, The Man Who Fooled SAVAK, available at our bookstore for $9.99, Amazon, Barnes & Noble and in ebook versions. Here is his POV on ISIS and the current situation in the Middle East.

As the world watches each new horror ISIS creates, I think it is instructive to note that the forces which shaped ISIS and similar movements began a long time ago after the end of World War I when the old Ottoman Empire was carved up to artificially create six brand new nations: Saudi Arabia, Iraq, Syria, Lebanon, Jordan, and Palestine (now Israel).
As Andrew Torre [mostly] correctly points out in his recent column for The Manchester Journal, the motives were for economic exploitation by western interests. To that end, governments were put in place to foster economic exploitation.
"Clearly, this was not a good deal for the masses of Middle Eastern people, who have predictably been fomenting revolution ever since. Their unceasing attempts to overthrow the exploitative system reached new heights immediately after WW II and have been regularly squelched by Western power ever since. England constantly repressed Iraqi uprisings; Nasser's Pan-Arabism of the 1950s was successfully opposed; in 1948 Israel was established as a foil against Soviet influence on Middle Eastern revolutionary movements; and in 1952 the U.S. successfully conspired to overthrow and assassinate the first democratically-elected president of Iran, Mohammed Mossadegh, who had the audacity to claim Iranian oil for the Iranian people, rather than foreign interests."

(Despite his committing one small factual error, I invite the reader to study his entire column as it is highly instructive. I am including a link to Mr. Torre's article)
But let me follow up on what happened to Mossadegh. Though he was tried for treason, (a capital offense) he was placed under house arrest, and was not assassinated as many have claimed. His treasonous act? Let me quote from the wiki:
"Mossadegh had sought to audit the books of the Anglo-Iranian Oil Company (AIOC), a British corporation (now BP) and to change the terms of the company's access to Iranian oil reserves. Upon alleged refusal of the AIOC to cooperate with the Iranian government, the parliament (Majlis) voted to nationalize the assets of the company and expel their representatives from the country."
Heaven forbid Iran actually being in control of its own oil!  The end result of all this was the CIA and MIA installed The Shah of Iran as an autocratic repressive leader for many decades. The relationship worked for a while. The U.S. helped Iran keep the Soviets at bay and strengthen Iran's Ministry of Security. The U.S. got a lot of oil out of Iran in the process and also sold the Shah an enormous amount of weapons.
I lived in Iran during part of his reign. The year was 1971, the 2500th anniversary of Iran as a nation. Unseen to most people, the seeds of revolution were brewing. One reason was because the Ministry of Security began spying, arresting and torturing its own citizens. The Shah's secret police were notorious. I got a few clues because, while serving in the U.S. Army,  I worked in the classified message center of Sitade Buzurgh (similar to Iran's version of the Pentagon.)
I thought that what I had seen was important enough that I wrote my first novel, The Man Who Fooled SAVAK, loosely based on what I had experienced.
By 1979 I was watching on television the rise of Iranian militants against western imperialistic interests, and the overthrow of the Shah by the Ayatollah Khomeini and his extremist supporters. They were not called Islamist back then, but in retrospect that is what they were. What else can would you call a group who overran the U.S. Embassy and took 52 diplomats hostage for 444 days, in flagrant violation of international law? My second novel deals with this period.
People can tremble at the thought of ISIS making good on its threat to become a bona-fide nation state of radical religious extremists,  but that is exactly what happened in Iran in 1979. To appreciate it fully one needs to understand that the extremism we saw from the militants who overthrew Iran was fueled by a deep resentment of western meddling in its affairs – a fact all to easy to forget in the heat of the moment.
Had anyone bothered to ask the question if such a thing could happen in any of the nations artificially created by western powers after World War I,  the answer of course would be a decided 'yes.'  And in fact that is exactly what we see today in Iraq and Syria.
When the U.S. invaded Iraq as a response to 9/11 in 2001 to overthrow Saddam Hussein, those who were against it correctly warned of unleashing a Pandora's Box of unwanted consequences. With the repressive dictator gone, old ethnic rivalries were unleashed which, added to the the deep resentment of how Iraq was artificially created in the first place, and this only compounded the chaos.
When the United States invaded in 2003, Shiites made up nearly two-thirds of Iraq's population of 25 million. But members of the Sunni minority had ruled Iraq since its independence in 1932. That is until the U.S. created a Shiite-led government, which was famously corrupt and repressive in its own right. Not a recipe for success, I think.
So complete is the chaos in Iraq today, one could argue that Iraq as we knew it no longer exists. The civil war in Syria, and the following disastrous collapse of law there allowed Sunni militants from Iraq to regroup and set up a safe haven from which to gather their forces. In its current form we know it as ISIS/ISIL.
Though the entire world, including every known Muslim group, sees ISIS as a threat, including most ironically, Iran – the U.S. response has been to drop bombs on ISIS in Iraq – over a billion dollars worth and counting. But wait. ISIS is actually headquartered in Syria, where the U.S. "supports" ISIS efforts to overthrow the Assad regime. Say what?
The folly of this approach seems obvious to anyone willing to ponder it, I think. Dare I say, that if continued, it will have an impact on the 2016 presidential election?
A better approach, in my opinion, would be to do everything possible to strengthen the one remaining island of stability remaining in the region: the area we call Kurdistan. The Kurdish army is known for its fierce fighters and the Kurdish population has a vested interest in keeping this stable and prosperous area (rich with its own oil reserves), stable and prosperous.
____________________________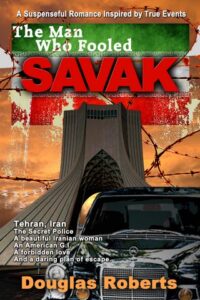 List Price: $15.99
6″ x 9″ (15.24 x 22.86 cm)
Black & White on Cream paper
376 pages
Outer Banks Publishing Group
ISBN-13: 978-0982993125
ISBN-10: 0982993129
BISAC: Fiction / Espionage
Outer Banks Publishing Group Bookstore