Ron Rhody's last novel in the THEO Trilogy,
When THEO Came Home, now available

FRANKFORT, KY – Kentucky's Capital City is reeling as a new Governor's actions play havoc with the town, a perfect murder is still unsolved; there is a suicide, a showdown, and a long-ago love rekindling—that's what he had to deal with When Theo Came Home, the concluding novel in Ron Rhody's Theo Trilogy.
When Theo Cam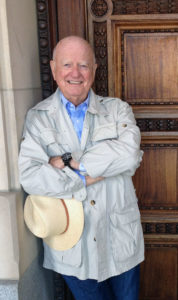 e Home was released at the Kentucky Book Fair in Frankfort on Saturday, November 16, but Outer Banks Publishing Group is offering a special pre-launch price of $12.99 .
The Kentucky Book Fair is the state's largest. It is co-sponsored by the Kentucky Department of Libraries & Archives, the University Press of Kentucky, and The State Journal, the capital city's daily newspaper. Held at the Frankfort Convention Center, the Fair attracts over 150 authors and averages over 4,000 attendees. All proceeds go to support public schools and libraries throughout the Commonwealth.
The three books in the Theo Trilogy are set in the Commonwealth's fabled Bluegrass region and the Capital City of Frankfort and cover a time span ranging from the early 1950s to the first few years of the 1980s.
Rhody grew up in the town he writes about and began his career there. He's been a reporter, a sportswriter, a broadcast newsman, and covered the Kentucky legislature before moving on to a career as a corporate public relations executive in New York and San Francisco. Both cities figure in this story, too, and the mountains of the Southern Appalachians where snake-handling cults still thrive.
The two other books that make up the Theo Trilogy are Theo's Story, published in 2010, and Theo & The Mouthful of Ashes, published in 2011.
Order your copy at a special pre-launch price of $12.99, list $15.99.
"The characters are richly drawn. The action runs at a riveting pace. What happened When THEO Came Home is a helluva read and a fine, fine story." – Ian Kellogg
When THEO Came Home is the concluding novel in the THEO Trilogy. The other books in the series are: THEO's Story and THEO & The Mouthful of Ashes, both available on Amazon in print and ebook format and in fine bookstores everywhere.
_____________________________
When THEO Came Home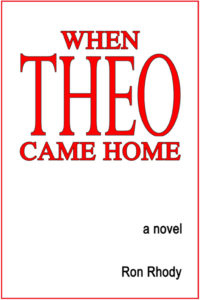 List Price: $15.99
6″ x 9″ (15.24 x 22.86 cm)
Black & White on Cream paper
360 pages
Outer Banks Publishing Group
ISBN-13: 978-0982993101
ISBN-10: 0982993102
BISAC: Fiction / Suspense